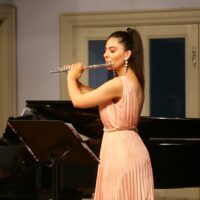 SUZANA SOTIRI
Flute Instructor
Suzana Sotiri is a graduate of Arte Music Academy (degree in Music studies, degree in flute performance).
She has won competitions, performed live on radio and television, and performed numerous concerts. She was a member of the Cyprus Youth Symphony Orchestra as well as the Cyprus European Orchestra and performed with many music ensembles such as flautissimo, Cellute, Famagusta Municipality Orchestra.
Her love for music does not stop at the flute as she teaches music to kids as well as theory, harmony, solfège and dictee to all ages.