In our time music industry depends upon the digital processing of sound. Computers have become an internal and necessary part of professional music, from composition to editing to reproduction.
Whether you're a seasoned professional or just starting your musical journey, our dedicated team is here to guide you, inspire you, and help you make the most of this dynamic environment.
Experience Music Technology education but also creation like never before. Our new room is equipped with the latest hardware, software, and interactive tools that empower you to explore the exciting intersections of music and technology.
Music Production department divided into two categories:
Our newly-designed recording space is available to all of our current students or artists in general, regardless of their major or background.
Whether you're a solo artist, part of a band, or exploring voiceover work, our recording space caters to your specific needs. You can take control of your sound with access to our Digital Audio Workstations (DAWs) and a vast array of virtual instruments and plugins. Our experienced instructors will be by your side to help you navigate the tools and techniques needed to achieve your artistic vision.
In our school you may record a single instrument or a full band, rehearse before your recording session, engage in exciting collaborative projects with fellow musicians or with students of the school, build an impressive portfolio of original tracks or cover songs and showcase your skills and creativity.
Take your music to another level and bring your musical vision to live!
Our Music Production course is designed to equip students with the skills and knowledge needed to create, record, and produce high-quality music across various genres. 
Our courses are divided into three sections:
• Music Production Theory
• Listening Skills
• Coursework task

Music Production Theory:
The theory content covered will include subject areas such as identifying studio hardware, physical audio formats, analogue connectivity, computer & digital technology, DAW basics, microphones, MIDI basics, basic audio technology and the fundamentals of mono & stereo sound.
Moving to higher levels, the student will be taught subject areas such us identifying high and low resolution audio files, modes of the major scale, irregular time signatures and specific genres.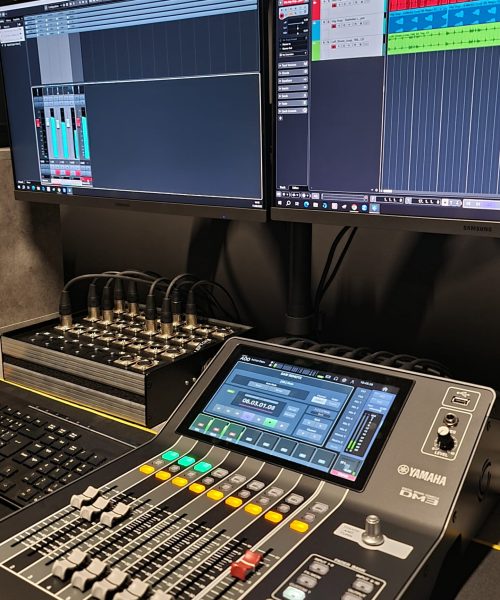 Listening Skills:
The aural content covered will include subject areas such as identifying instruments in isolation and within a mix, relative pitch and basic note lengths and specific genres. Getting to higher levels the student will be able to identify high and low resolution audio files, modes of the major scale, irregular time signatures and specific genres.
Coursework Task:
The Technical Skills, in the beginning of the course, will center around session creation and basic inputting of notes using a software instrument on a digital audio workstation (DAW). The Coursework Task will require students to import a backing track into their DAW, record a melody and bounce the resulting mix to a new stereo audio file.
Moreover, in higher levels the student will choose their specialization choosing from Audio Production, Electronic Music Production or Sound for Media.
Classes can be offered in-person, online, or as a combination of both, providing flexibility for students with different schedules and locations.
At our school we offer Music Production exams
Our accredited diploma programs are designed to provide students with a comprehensive and practical education, preparing them for successful careers in their chosen fields.
Each diploma program features a well-structured curriculum that combines theoretical knowledge with hands-on practical training. Students are exposed to real-world scenarios and industry-relevant projects to enhance their skills and understanding.
By the end of the course, you will have the necessary skills to produce your own music and embark on a rewarding journey in the world of music production. Whether you aspire to become a professional music producer or want to create music as a hobby, this course will set you on the right path.