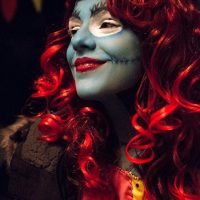 IRO KLEITOU
Head of MUSICAL THEATER Dpt
Iro Kleitou was born in Cyprus in 1991. From a very young age she started studying piano theory singing and guitar lessons. Iro has successfully completed her studies in Music (BA Hons) at Bangor University (North Wales) and thereafter attended the American Musical Theatre Academy of London.
Iro performed in several theatre productions in London such as Twelve Angry Men and Yerma. Also she took part in Musical Theatre shows such as Sweet Charity, Les Miserables, Wicked and Elegies. After finishing her studies Iro had the opportunity of working with various schools in London and teaching Musical Theater. Iro also traveled in Europe and taught seminars in Schools such as in Rome and Sicily. 
Iro also loves children and she worked for Lucy Sparkles in London where she had the opportunity to work with young children all over London. 
With her return back in Cyprus Iro has always so much to offer as a Musical Theatre Director for our shows but she is also performing in other theatre productions such as "ta yila vouna" as an actor and at "kypria festival" as a music writer and director!
Iro is the creator of Iro Twinkles and in a collaboration with the school they have created "pickNart" program approaching young children learn music movement and acting from a very young age. Iro twinkles has already publish cd's and songs on YouTube in order to help children perform the songs at home as well.
As a musician Iro had an array of opportunities to obtain significant experience including performances in London, Bahrain, New York, Cyprus and Greece pointing out Nightmare before Christmas in Bahrain and Limassol Acoustic Festival as her most memorable ones. Furthermore, she recently participated in ANT1 Rising Star reality show broadcasted by ANT1 TV in Greece indicating her prodigious style and astonishing the audience. Iro has published songs as a singer in all music Platforms. 
You can find Iro Twinkles songs HERE on her official YouTube Channel 
And Iro Kleitou songs HERE on her official YouTube channel