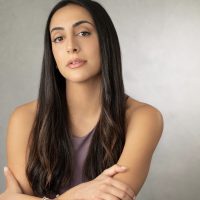 Erato Demetriadou
Visitor Instructor - Musical Theater
Erato has been training in musical theatre, dance and acting since a very young age. During her training at musicNart school she gained diplomas in Musical Theatre, speech and drama, singing and ballet. Also she participated in performances such as 'Mulan' at Pattihio Dimotiko Theatre in 2017 with the role of Mulan. 
In 2018 she moved to the UK to study Music Theatre at the University of Central Lancashire and afterwards in 2021 she moved to London to continue her training with a postgraduate diploma in Dance Performance at London Studio Centre. 
During her studies she has been taught by professional West End performers and creatives and she has experience in industry auditioning. Credits whilst training include: Hairspray, Songs for a New World, Ex Wives, Sweet Charity and The Frogs. 
Erato made her professional debut in the 'Andrew Lloyd Webber Musical Gala' European tour as an ensemble in early 2023