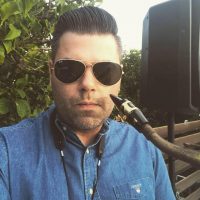 ALEXANDROS PAPACHARALAMBOUS
Saxophone Instructor
Alexandros Papacharalambous was born in Limassol, in 1988.
He developed great passion for music from quite a young age, a fact made apparent to both his parents and relatives. Having become aware of his talent, his parents sent him to a conservatory in Limassol, where he attended guitar, piano and singing classes. At the age of ten, his focus shifted towards the saxophone, which he began to study incessantly. During his time in the army he played an integral role in the philharmonic orchestra as a saxophone player.
In 2008, after having successfully completed the National Bulgarian examinations, he acquired a position in the PanchoVladigerov conservatory in Sofia, where he studied Pop andJazz Saxophone. During his studies he attended classes in harmony, the history of pop music, the history of Bulgarian music, polyphony, orchestra, improvisation, musical analysis and musical aesthetics. Under the mentorship of Vlaio Vlaev, he successfully graduated in Pop and Jazz Saxophone with a distinction.
He has since had an outstanding trajectory. Due to his work ethic and insatiable passion for music he has had the honor to collaborate with some of the industry's most highly esteemed musicians. His most recent collaboration with Notes Live and his participation in various bands and concerts, have only addedto the long list of musicians with whom he has worked, some of which include: Constantinos Christoforou, One, GiorgosTheofanous, Despina Olympiou, Evridiki, Kostas Makedonas, Kostas Hatzis, Angela Dimitriou, Christos Dantis, PitsaPapadopoulou, Valantis, Giannis Koutras and Rita Antonopoulou. These are only a few of the composers and performers whom he has so far collaborated with.