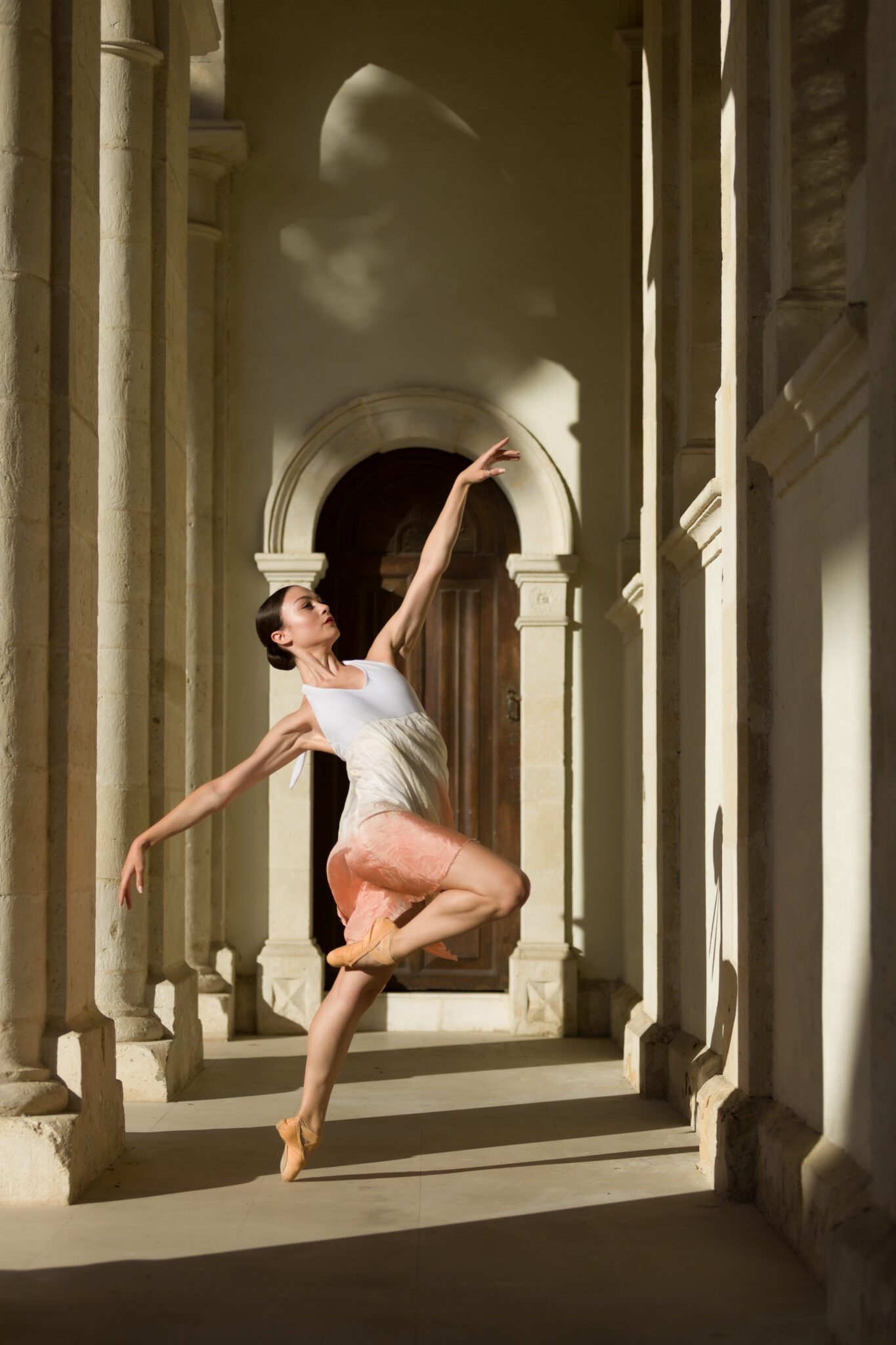 Graduated in 2017 as a Professional Dancer from the Royal Ballet School of Antwerp, under the direction of Nadia Deferm. During her studies she danced with the Ballet Flanders in productions like Sleeping Beauty and Spartacus. She has a strong classical ballet technique and further training in contemporary dance, having taken part in NDT workshops in Holland, Victor Ullate Summer School in Spain, Gotra Summer intensive STEP FORWARD in Holland and Master Class with Noa Wertheim Vertigo Dance Company of Israel in Cyprus. Also, she has taken basic Graham technique lessons. Teachers she trained with include Nadina Loizidou, Eleni O' Keefe, Bart De Block, Kevin Durwael, Christiane Merchant, Yannick Boquin, Gabor Kapin, Rakesh Sukesh, Joost Vrouenraets, Maite Guerin, Koen Onzia, Altea Nunez Nieto, Tania Miltenova.  She is a member-dancer of Diastasis Cultural Association in Cyprus. During the year 2018, she was working as a professional dancer in Eliot Smith Dance Company in Newcastle, U.K, taking part (amongst other) in tours all over North East U.K. From 2019 she teaches dance in various dance schools in Cyprus.
Taking ballet lessons from the age of 3 and she got distinction in all levels, including Advance 2 R.A.D.
In 2014, she won the first place in the 9th Pancyprian Dance Competition, in the senior division, performing the Swan Lake Pas De Trois, while in 2015 she was chosen amongst the best 12 dancers in contemporary choreography, in the "Youth America Grand Prix" Semi Finals, in Paris.
Performance Experience:
– Mare Nostrum (Diastasis) – Pattihio Theatre, Limassol, Cyprus
– Great Ballets (Group of Cypriot Soloists) – Pattihio Theatre, Limassol, Cyprus
– Eikones tis mousikis  (Costas Cacoyannis – Diastasis) – Athens, Greece
– Ai-Vasili Vasileia  (Costas Cacoyannis – Diastasis) – Pattihio Theatre, Limassol, Cyprus
– Eikones tis mousikis  (Costas Cacoyannis – Diastasis) – Pattihio Theatre, Limassol, Cyprus
– Professional Contemporary Dancer (Eliot Smith Dance Company), Newcastle Upon Tyne, U.K
– Mazi epi Skinis (Natasa Demetriadou), Solo – Pattihio Theatre, Limassol, Cyprus
– Jonathan (Nadina Loizidou) – Pattihio Theatre, Limassol, Cyprus
– Entopion (Carolina Constantinou), Solo & group – Dance Gala of Cypriot Artists, Pattihio Theatre, Limassol, Cyprus
– Graduation Gala – (Altea Nunez Nieto), Royal Ballet School of Antwerp, Hetpaleis
– Spartacus (Y.Grigorovich), Slaves, Wheepers – Ballet Flanders , Stadsschouwburg, Antwerp
– La mascarade (School Project), Cooking Lady, Friends, Corps de Ballet – Royal Ballet School of Antwerp, Hetpaleis
             – Graduation Gala – All About the Rhythm, Etudes (Bart De Block) – Royal Ballet School of Antwerp, Hetpaleis
– Sleeping Beauty (M. Petipa) – Ballet Flanders, tour in Gent and Antwerp
– Musical Project (Eleni O'keefe, Nadina Loizidou, Maria Messi) – Diastasis, Limassol, Cyprus
– Lavete Theseis (Eleni O'keefe, Dafni Mouyassi), Solo – School of Ballet Nadina Loizidou, Limassol, Cyprus
– Geiosi (Carolina Constantinou) – Kypria Festival, Limassol, Cyprus
– Comenius of the EU Education and Culture DG (Natasa Demetriadou) – Portugal Life Long Learning Program, Portugal